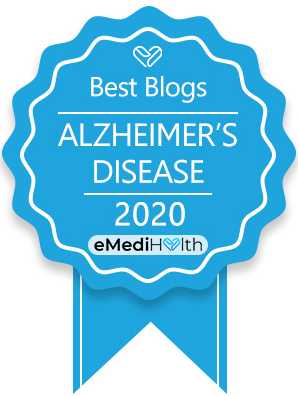 ☆☆☆☆☆ By eMediHealth ☆☆☆☆☆
I'm pleased to announce that The Memories Project was included in eMediHealth's Best Alzheimer's and Dementia Blogs for 2020.
I recognize just about every blog that made this list, from the major organizations to the personal bloggers like myself.  I was happy to see Alzheimer's Daughter by Jean Lee, one of the founders of AlzAuthors, included on the list. Likewise, Kay Bransford does great work on her blog, Dealing with Dementia, covering important financial issues for those with dementia and their caregivers. Also making the list are two other blogs I frequently read, including The Caregiver's Voice by Brenda Avadian and The Diary of an Alzheimer's Caregiver by Rena McDaniel.
As many of you know, The Memories Project began back in 2012 as a tribute to my father, who died of Alzheimer's. Over the years, it has grown into an awareness and advocacy blog for Alzheimer's and other dementias, as well as their caregivers. I also documented my journey as my mother's caregiver, who had colon cancer.
While it's nice to be acknowledged, the true reward I receive for blogging is connecting with family caregivers and being given the opportunity to advocate for those who provide care for their loved ones. I've also learned so much from other caregivers. The caregiving community is smart, tough and compassionate and I am honored to be a part of it.